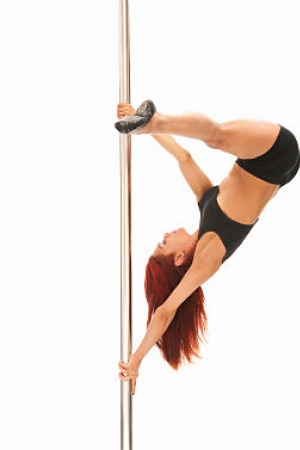 MAYA VELVET
Iracy Veloso (aka Maya) comes from a dance background (ballet, contemporary and folk dance) with a BA in Physical Education from the Universidade Federal de Pernambuco, Brazil.

Iracy arrived in London in 1998, and has been pole dancing for more than fifteen years. She has been teaching pole dancing for the last ten years. Initially self-taught, she began training in 2006 with former UK and world pole champion Elena Gibson, later being invited to become part of her select team of teachers.

Maya was a finalist in pole dance competitions in both the UK and abroad between 2006 and 2012 (Pole Divas 2006 and 2009 finalist, Miss Pole Dance UK 2009 finalist, Pole Art 2010 finalist, UK Professional Pole Championship 2011 finalist) and in recent years she has been dedicating herself exclusively to teaching and improving her skills as a pole instructor.

POLE SPECIFIC TEACHING CERTIFICATIONS:
-In 2013 was certified by the X-Pert Pole Fitness Certification Program Level 1/2 .
-In 2014 was certified by elevatED Level 1 Professional Pole Instructor Training.
-In 2015 was certified by elevatED Flexibility Level 1 Professional Instructor Training.
-In 2016 completed FloorFlow Teacher Training Level 1 with Marlo Fisken.
-In 2016 completed Josh Taylor's Pole Instructor Intensive.
-In 2016 was certified by XPERT Pole Fitness Spinning Pole teachers training.
In 2017 was certified by Spin City intermediate Pole Fitness Instructor Training.
MVP
What MVP offers to the potential student is a much more focused experience. Classes are limited in size, our classes have a maximum of 2 students to a pole. This leads to a much more rewarding classroom experience.

Our pole dancing classes take place in East London,in Limehouse , close to the City of London and also in Kew, with courses lasting a total of 4-6 consecutive weeks,once a week. Besides group classes, MVP also offers private pole dancing lessons and packages for hen or birthday parties, all conducted by a teacher who has a wealth of experience as both a pole dancer and as a pole dance teacher.

VENUES

CABLE STREET DANCE STUDIOS
566 Cable Street, Limehouse, London E1W 3HB

YES BRAZIL DANCE AND ARTS KEW STUDIO.
Arch 8 Kew Bridge
Kew
London
TW9 3AW